Executive Chef Fabio Colace
The story of passion for tradition, in cuisine and life
When did you decide to dedicate your life to culinary art?
When I was a child, I was helping my mum when she was cooking. I remember us preparing different types of tomatoes: tomato puree, peeled tomatoes, fresh pasta, wood oven bread. By the way, the city my mum comes from, Cerchiara di Calabria, is also known as City of Bread. We were baking it every week.
This is the time when my passion for cooking and love for tradition evolved. I was 8 years old.
When did you take a mature decision to start your culinary career?
When I was 16, I have begun a professional hospitality school in Amatrice. Afterwords, I have done several experiences in different restaurants, but when I came to Sheraton Rome, I have felt my fit here and decided to develop my professional life working in this place. First as commis di cucina, after one year as chef di partie, in 2008 I became an executive sous chef, and now I am an Executive Chef.
What is your personality and how you bring it to your cuisine?
I am very active and quick, I like get things done in the fastest possible way. I also have a strong sense of family and love for tradition, that I try to convey in my cuisine.
What is your signature dish?
Pasta with bacon from Amatrice and broad bean pesto cream. You can also find it in our seasonal menu at AQVI Pool Restaurant & Bar.
Which dish and wine most represent Rome and Lazio?
Talking about wine... name Frascati. Dishes wise, for sure amatriciana pasta, Roman artichokes, lamb chops.
Which dish and wine most represent the city of Rome and Lazio region?
Talking about wine, I would name Frascati, and dishes… For sure, amatriciana pasta, Roman artichokes, lamb chops.
Which ingredients do you prefer to use?
I like all the ingredients, the secret is in their cooking, you should do your best not to spoil the tastes of great products, especially of Italian cuisine.
Which cooking technique do you prefer?
Low-temperature cooking. Lamb cooked at low temperature is delicious!
Unveil one of the secrets of your cuisine.
The secret of great cuisine lies not only in the creativity, but also in rigor and courage to fully apply yourself, your passion for cuisine and readiness to make a sacrifice.
Which region's cuisine is your favourite?
Emilia-Romagna. I love fresh pasta, and raviolotti with asparagus are my favourite.
What are your hobbies?
I am an active sport person, I ski, play tennis and I am fond of football… watching it!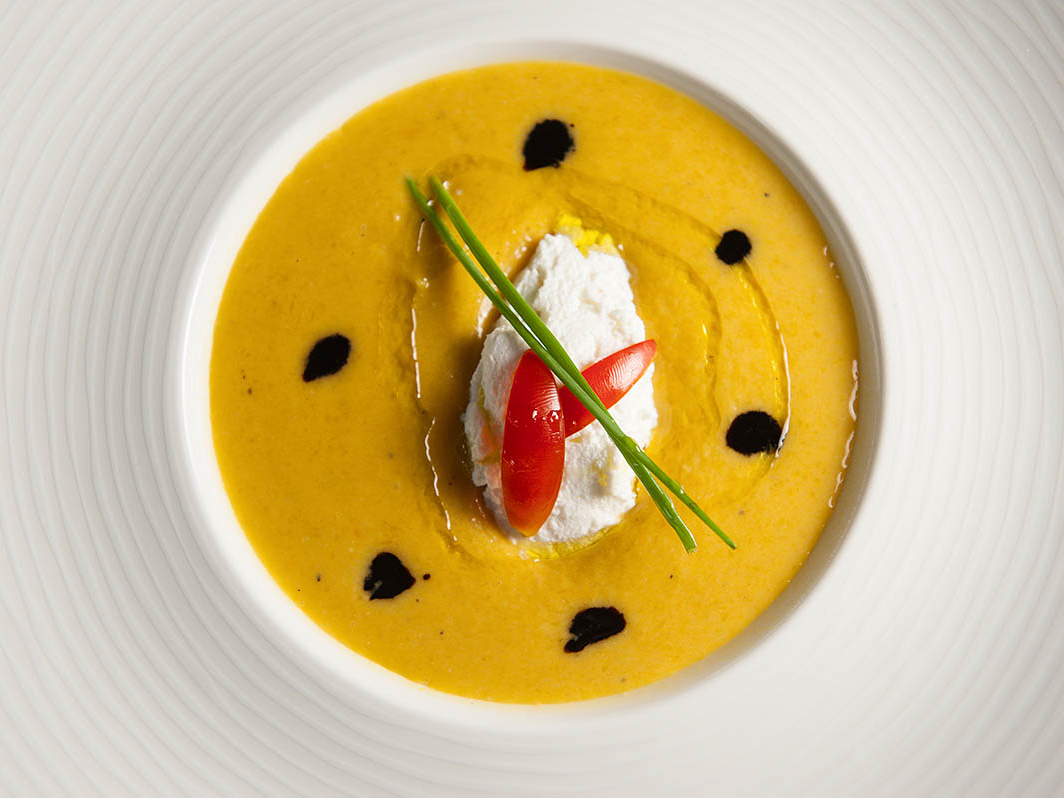 Breakfast

6:30 AM - 10:30 AM

Breakfast Weekend

6:30 AM - 11:00 AM

AQVI Lunch

12:00 PM - 2:30 PM

AQVI Dinner

6:00 PM - 11:00 AM

V Bar

10.30 PM - 01.00 AM

V Bar Weekend

11.00 PM - 01.00 AM